In my house, you know when Santa Claus has come because he always brings tons of presents and he hangs dozens of candy canes on the tree before he leaves! My kids all decided years ago Santa's favorite flavor had to be peppermint since he always adorned our tree with these special treats. Every Christmas Eve we make a special plate, filled with treats for Santa and his reindeers. What kind of cookies are always on the plate? Mint flavored of course-his favorite!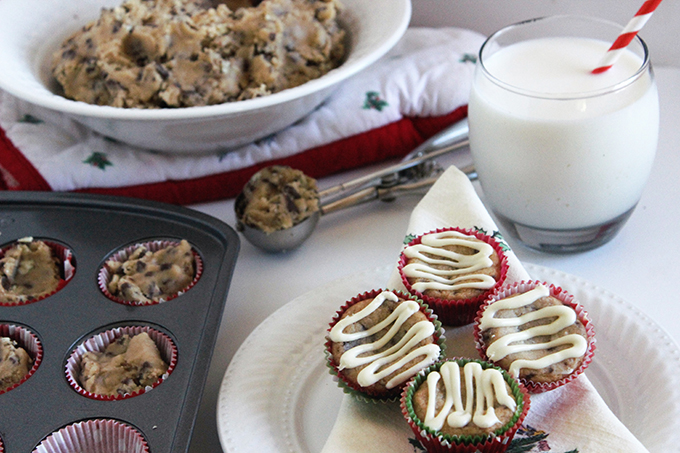 I wanted to put a twist on a classic buttery mint cookie. I decided to introduce chocolate, and added chocolate mint pieces to give these cookies that special touch that Santa would enjoy. Thinking like a jolly ol' elf, I also decided to make them look extra special by serving them in a special Christmas wrapper. They become the perfect present, just in time for gift giving.
Make your Christmas extra special this year and include Santa's favorite cookie to your Christmas baking line up! Place them on a plate and tie them with a bow for the perfect holiday gift. If Santa likes them, you know they have to be good. Ho-Ho-Ho Merry Christmas!
Ingredients
1 tsp baking soda
1 tsp salt
2 ¼ cups all-purpose flour
1 cup (2 sticks) Challenge Butter, softened
¾ cup granulated sugar
¾ cup packed brown sugar
1 Tbsp vanilla extract
2 eggs
2 cups chopped Andes Candies, or your favorite chocolate mint chips or candy
60 mini cupcake liners
Directions
1

Preheat oven to 375 degrees.

2

Prepare a mini cupcake or muffin pan by adding cup liners to each well.

3

Combine flour, baking soda and salt in small bowl. Beat butter, granulated sugar, brown sugar and vanilla in large mixer bowl.

4

Add eggs one at a time, beating well after each addition; gradually beat in flour mixture.

5

Stir in candy.

6

Using a cookie scoop, place a scoop into each liner.

7

Bake in oven for 9-12 minute or until golden brown on top.

8

Let cool for at two minutes and remove from pan.