Have you caught on to the newest craze? Making individual serving meals in a mug are the biggest thing. Just ask my kids! After watching them make recipe after recipe in the microwave, I realized they were on to something. I decided to get into the game and I came up with my own one mug wonder. I was excited when I perfected my recipe for a Breakfast Burrito, and even more happy when my Cherry Cream Cheese Filled Breakfast Bread Pudding became my kids favorite. These recipes have made my kitchen a happier place at breakfast time. They are quick, healthy break FAST ideas for those busy mornings. They have empowered my kids, and helped me become the cool mom on the block!
Cherry Cream Cheese Filled Breakfast Bread Pudding Recipe
Ingredients
1 Tablespoon Challenge Butter, plus extra for mug
1 slice bread
1 egg
2 Tablespoons milk or half and half
2 teaspoon sugar
¼ teaspoons vanilla
¼ teaspoons cinnamon
2 Tablespoons Challenge Cream Cheese
2 Tablespoons cherry pie filling
pancake syrup or powdered sugar, if desired
Directions
1

Butter the inside of mug to prevent sticking. Next spread butter on the slice of bread. Tear bread into 1 inch pieces.

2

In a small bowl, combine egg, milk, brown sugar, vanilla and cinnamon.

3

Place half of bread pieces inside of prepared mug. Add cream cheese and pie filling, followed by the remaining bread pieces. Pour egg mixture over bread and place mug into microwave for 2 minutes. Carefully remove and let cool. Run a knife around edges of bread pudding, to loosen. Pudding can be eaten straight out of the mug, or you can flip mug upside down on serving plate to remove pudding.

4

Serve with powdered sugar or syrup if desired.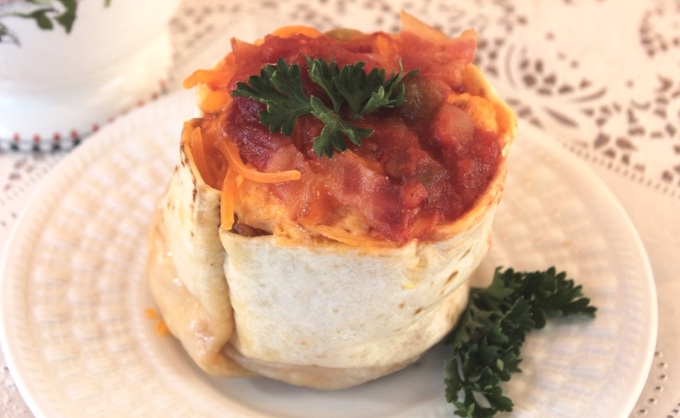 Breakfast Burritos Recipe
Ingredients
Challenge Butter, for mug
1 flour tortilla
1 Tablespoon Challenge Cream Cheese
1 Tablespoon salsa, plus 1 Tablespoon for garnish if desired
2 Tablespoons shredded Pepper Jack or Cheddar cheese, divided
2 Tablespoons bacon or sausage, diced and cooked
2 eggs
Directions
1

Grease the inside of mug with butter.

2

Put the cream cheese in small mixing bowl, and place into microwave along with tortilla in microwave. Microwave for 20 seconds.

3

Carefully remove from microwave. Add salsa, 1 tablespoon of shredded cheese, bacon or sausage, and eggs to bowl with cream cheese. Whisk together to combine. (Cream cheese may be lumpy, that is alright!)

4

Fold and edges of tortilla like pleats to fit inside and line the mug. Pour in egg mixture. Microwave for 60 seconds. Remove and stir egg inside of tortilla. Add the remaining cheese, and place back into microwave for an additional 60 seconds. Remove and let cool.

5

When cool, flip mug over onto a serving plate to remove burrito. Garnish with additional salsa if desired and serve.